COLUMNS & FEATURES
FROM
SpeedwayLineReport.com
Click On Link
FRIENDS

Semi-Monthly Racing Commentary with
LEW BOYD


OCTOBER 29
HORN ATTACK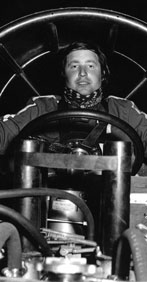 By Dave Dykes CLICK ON PHOTOS FOR FULL SIZE
Happy Wednesday! That means the work-week is on the run, and it's time to offer-up another varied selection of photographic treasures courtesy of two of the sites greatest contributors, our longtime friends Steve Kennedy and R.A. Silvia. Unfortunately we also must mention the loss of yet-another member of the New England Auto Racing Hall of Fame, as it was revealed that 2009 inductee John Fitch passed-away last week. Our sincere condolences are offered to his family and many friends. On the agenda and approaching quickly, twenty racing pioneers considered central to the success of the sport in New England during its formative era will be inducted into the New England Auto Racing Hall of Fame on Sunday, November 18 at the Speedway Clubhouse located on the grounds of the Thompson International Speedway in Thompson, Connecticut. Doors open at 10:00 am, with dinner to be served at 1:00. Visit the NEAR website at www.near1.com for more details or contact NEAR President Val LeSieur at 508.238.7797 or email him at vallesieur@aol.com. Coming up even-sooner on this Saturday evening November 10 the New England Antique Racers (NEAR), present their annual Movie Party at the Dante Club, 1198 Memorial Ave in West Springfield, Mass. (across from the Big E Fairgrounds). Admission is just $15.00 with tickets available at the door. Things get underway at 6:00 PM. The Movie Party is the primary fundraiser for the club. This year's proceeds will go to funding maintenance on the van that houses the NEAR Mobile HOF Museum which will be on display outside the Dante Club for the evening. Forwarding to December, Hall of Famer Billy Greco will also be hosting a NEAR Movie Party on Saturday December 8, 2012 at the Polish-American Club on 194 West Spring Street in West Haven, Connecticut. Doors Open at 7:00 PM. Raffle donations are currently being sought. Visit www.near1.com for directions and more details on this event. As-always, email reaches me at foreveryounginct@gmail.com
---
Note: Thanks to our friend Ken Meisenhelder of KGM Video, we will be including footage from area tracks taken by Ken, Tanis & Glenn Meisenhelder over the years when time permits. This week are the Modifieds, Pro Stocks & Late Models from June 3, 1995 from Riverside Park Speedway. It's 1:15 long and is at the bottom of the page.

Yet-More Wednesday Wanderings…..
| | |
| --- | --- |
| It's the spring of 1949 and what you're viewing is the first-ever day of stock car racing at Connecticut's Plainville Stadium. Originally known as "Tinty's Flying Ranch", it opened in 1948 hosting motorcycle racing, horse shows, and various civic events. Seen here sporting the original dirt surface, because of the dust it was paved the next week in April of 1949. Sadly, it closed at the conclusion of the 1980 campaign, a season that saw the ¼-miler running a limited number of events. George Landry holds the distinction of being crowned Plainville's first-ever track champion. Owner-promoter Joe Tinty will be inducted into the New England Auto Racing Hall of Fame later this month. (Solomone Photo, R.A. Silvia Archives). | |
| | |
| --- | --- |
| | We're unsure of the exact date, but we do know that this image was captured at Plainville Stadium during the early-1950s and it's a rare-one. Additionally, we're unclear on how many times the sprint cars visited Joe Tinty's little racy little ¼-miler, but do know that the driver is Jimmy Little who hailed from Hartford, CT. If anyone has any additional information on this shot please feel-free to shoot us an email. Perhaps our good friend and New England open-wheel Historian Ed Duncan can shed a bit of light on this shot? Note: Our webmaster and publisher, Tom Ormsby did some research on the photo and found it to be from July 22, 1949 what is believed to be the only "Big Car" race (as the Sprint Cars were called then) at Plainville. (Solomone Photo, R.A. Silvia Archives). |
| | |
| --- | --- |
| Seen here at the "New London-Waterford" Speedbowl Charlie "Chuggy" Savage remained a popular shoreline oval chauffer for many seasons. Definitely one of the track's "top-guns" in the modified division, you have to love this neat little coupe. In later seasons, Savage was one of the benefactors of the cost-cutting standards set-forth in the advent of the SK Modified, doing quite-well in the beginnings of the division. (Shany Photo, R.A. Silvia Archives). | |
| | |
| --- | --- |
| | We just love this Plainville shot that comes to us from our longtime friend, the much-accomplished racing photographer Steve Kennedy. New England Auto Racing Hall of Fame member Dave Alkas is seen behind the controls of the Al Coco-owned #87 which was normally driven by his late brother, George Alkas. The car is the former Roland Cyr coach that Dave had previously driven to many victories and multiple championships. Considered Plainville's absolute best-ever, Dave was often called-upon by other teams to "shake-down" their machines in an effort to identify any possible performance issues. Just look at the nice quality of this shot; Steve was just a kid capturing his images through the fence at the time. (Steve Kennedy Photo). |
| | |
| --- | --- |
| Captured here at Thompson in the 1970s during his rather-short (but successful), stint in the modifieds, when it came to "full-fender" racing, this guy was one of the absolute-best. Plainfield, Connecticut's Ron "Boots" Cote had few equals when in his prime, excelling at a trio of his home-state ovals. At the Speedbowl-alone, he recorded over thirty career-victories and a duo of championships. Had he decided to stay within the open-wheel wars, there's no-telling how far he could have went. "Boots" was a talented racer. (Steve Kennedy Photo). | |
| | |
| --- | --- |
| | Inducted into the New England Auto Racing Hall of Fame in 2011, "Dangerous Dan" Galullo was one of the brightest stars of the once powerful United Stock Car Racing Club headed-up by the Tattersall family. Twice a Riverside Park Modified titlist, also included in his accomplishments is the 1962 United Stock Car Racing Club Grand Championship, a feat he recorded by winning at the many UNITED-sanctioned tracks that once dotted the Northeast. He also recorded feature wins at Plainville Stadium (as-seen here), Waterford Speedbowl, and Cherry Park in Avon, Connecticut among others. He competed in at-least one documented NASCAR Grand National event (now know as the Sprint Cup Series) at New Jersey's Old Bridge Stadium in 1956. Following a serious heart-attack, Galullo retired from driving while still in his prime. He passed-away in 1974, but not before witnessing the racing accomplishments of his sons, Richie and Danny Jr. (Faust Photo, R.A. Silvia Archives). |
| | |
| --- | --- |
| Another image that's sure to be familiar to Connecticut race fans, this one captures our friend New England Auto Racing Hall of Fame member Bob Potter at the Speedbowl during the 1970s. An ultra-popular racer, the Taftville, CT. native started his career at Waterford in 1962 behind the controls of a Bomber class entry. He went-on to win multiple Modified championships at Waterford (where alone, he claimed close to 100 career victories), Thompson, and Stafford. Bob recently got back behind the wheel campaigning an SK Lite at selected events. (Dugas Photo, R.A. Silvia Archives). | |
| | |
| --- | --- |
| | Seen here with his crew & family celebrating an early Daredevil division feature victory, our friend Wayne "Mr. Mysterious" Smith claimed most of his "New London-Waterford" Speedbowl success in the support-divisions, his full-fender endeavors of the championship variety. It should be noted that during his long career "Mr. Mysterious" also put in some impressive performances in the modifieds. (Shany Photo, R.A. Silvia Archives). |
| | |
| --- | --- |
| Our friend Ray Miller was inducted into the New England Auto Racing Hall of Fame in 2002, and for good-reason. Growing-up around race cars, his father paired with Red Lataille to own the #1 Lataille/Miller Offy, running out of the Miller's garage in East Granby, CT. The team ran the ARDC circuit, often racing 7 nights per-week in the 1940s and 50s. Ray started his career at Plainville Stadium in 1965 before progressing to NASCAR haunts like Stafford and Thompson. A winning driver at the highest-echelon of New England modified racing for many seasons, he retired in the 1980s. This shot captures him behind the controls of his familiar Mike Greci-owned Vega during a 70s-era Thompson Speedway event. As of-late he's has returned to the sport (along with fellow Hall of Famer Denny Zimmerman), racing a dirt-midget every week with the USAC Dirt Midget Association. Ray is the dad of the late Jay Miller, an accomplished and very-popular young SK modified driver who left-us much too-soon. (Steve Kennedy Photo). | |
| | |
| --- | --- |
| | Here's a shot of one of New England modified racing's longest-running performers. Dale Holdridge's career lasted over 3-decades. Known as a gentleman on & off the track, he was one of those drivers that you seldom ever saw involved in any controversy; just a good, steady shoe that fellow competitors enjoyed racing wheel-to-wheel with. This one captures him behind the wheel of his Pinto at a Waterford special event in 1974, an era which found him on the NASCAR modified trail. Proving the old adage "The apple doesn't fall far from the tree" rings-true in our sport, Dale's son Mike is also an accomplished racer, most recently tasting success in the tough Valenti Modified Series. Dale's nephew Larry Barnett (a star performer within the full-bodied ranks over the years), has also runs the Valenti Modified Tour. (Wurthmann Associates, INC. Photo, R.A. Silvia Archives). |
| | |
| --- | --- |
| BONUS SHOT 1: And here we have a nice early shot of New England Auto Racing Hall of Fame member, the late Chauncey "Jocko" Maggiacomo captured pitside at Plainville Stadium. From his HOF biography; Chauncey "Jocko" Maggiacomo won the first race he started, driving a motorcycle in Milbrook, N.Y., in 1931. In 1937, he drove his first midget, then switched to stock cars when he returned from serving in World War II. Jocko was so successful that in 1948, his first year back to racing, he won over $13,000. In the 1930's racers had few of the safety features available for today's stock cars. In a NEAR NEWS interview in 1995, Jocko recalled strapping into his racer with an extra wide leather belt, while wearing a leather helmet that "wouldn't do much more than hold my hair in place." Finding that milk delivery tires were more durable than standard passenger tires, Jocko ran them until tires were made specifically for racing application. Jocko was equally successful on both dirt and asphalt. He achieved great success on the 1/5 mile asphalt bull ring at Riverside Park Speedway where he was an early winner. He is credited with winning 31 Saturday night features and three championships in 1952, 53, and 55. He was also very successful in the late model Grand American division of Harvey Tattersall's United Stock Car Racing Club. Most of his wins came while driving cars owned by Gordon Ross, Bob Oliver, and the Garuti bros. He retired as a driver after competing in the 1965 Riverside Park 500 lap race. (Solomone Photo, R.A. Silvia Archives). | |
| | |
| --- | --- |
| | BONUS SHOT 2: Here's a great trackside shot from the "New London-Waterford" Speedbowl circa 1970. Before graduating to the modifieds, Walt Dombrowski had claimed the 1963 Speedbowl Bomber championship. The transition was a smooth-affair with Walt scoring his first checkers in the shoreline oval's headlining division during the 1966 campaign. By the time Shany Lorenzent captured this image, he'd secured a seat in Stan Majewski's Willys-bodied coupe. At seasons-end, he was the champion! (Shany Photo, R.A. Silvia Archives). |
Riverside Park Speedway
Modifieds-Pro-Stocks-Late Models
June 3, 1995
That's it for this week. Email me at: foreveryounginct@gmail.com

This weeks comments

(4 days ago) Dave Dykes said:

You know Rick, a lot of people have forgotten Ron's modified days. He was so-good in the late model-type classes, folks tend to focus on that part of his career. He really was a good modified shoe also!

(5 days ago) Rick Burdick said:

Nice Dave! Like the video,&forgot Boots had a mod..thanks.

(6 days ago) Phil Smith said:

Great camera work by Kenny M.

(6 days ago) NELS said:

nice shot of ron cote dave!

(6 days ago) Dave Dykes said:

Tom, as-always, thanks for all the help you give me in getting "RTT" up on the web every week. I couldn't do it without a great Webmaster!