COLUMNS & FEATURES
FROM
SpeedwayLineReport.com
Click On Link
FRIENDS

Semi-Monthly Racing Commentary with
LEW BOYD


NOVEMBER 20
BEING TOUGH
Jeff & Linda Bloom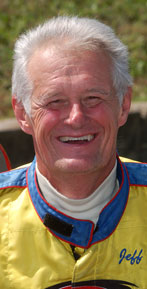 By Dave Dykes CLICK ON PHOTOS FOR FULL SIZE
Hard to believe, but yet one-more week passes and we all know what that means; another trip down "Racing Memory Lane"! Special thanks go out to our friends Chris Langer, R.A. Silvia, Mark LaJeunesse, Steve Kennedy, John Grady, and New England Auto Racing Hall of Famer Bob Potter for providing many of this week's images. And, a note of appreciation to our Webmaster Tom Ormsby for getting the site posted each & every Wednesday like clockwork! Finally, Hall of Famer Billy Greco will be hosting a NEAR Racing Movie Party to benefit the New England Auto Racing Hall of Fame on Saturday December 8, 2012 at the Polish-American Club on 194 West Spring Street in West Haven, Connecticut. Doors Open at 6:00 PM. Raffle donations are currently being sought. Visit www.near1.com for directions and more details on this event. Email reaches me at foreveryounginct@gmail.com
Another Week, Another Lap Around The Past…..
| | |
| --- | --- |
| We start this week's edition of "RTT" with a nice early-career shot of our friend Billy Greco when he was wheeling one of the potent coupes owned by Fred "Sharkey" Gaudiosi. Greco remained one of the most-popular modified racers in New England for decades. He established himself in the sport early-on, taking track championships at West Haven in 1955, and again in '56 and '58. He won Saturday night championships at Riverside Park in 1965 and 67, and also notched several Tuesday night track championships at the Park. His combined feature win total at the Park is 68 including five 500 lap team races. His success was not limited to just driving for Harvey Tattersall's United Stock Car club. Greco was a charter member of the All Star Racing League and had success on both dirt and asphalt. In the late-sixties he tried his hand with NASCAR. Later in his career he joined the NYSSCRA and competed at the Danbury Racearena. Both Greco and Gaudiosi are members of the New England Auto Racing Hall of Fame. (Shany Photo). | |
| | |
| --- | --- |
| | Here's a West Haven Speedway shot of Red O'Keefe during early stages of his long racing career. O'Keefe, who passed-away at age-80 earlier this year, was a standout New England modified competitor for many seasons claiming feature events at a number of the regions speedways. He was the 1965 West Haven Speedway track champion and nearly repeated in '66 placing second to fellow United Stock Car Racing Club star, the late Johnny "King" Cambino. The winning margin for that's years title race was a scant single-point. He enjoyed his biggest success at West Haven (AKA "Savin Rock"), competing in the Non-Ford division. A skilled mechanic & fabricator, his self-built creations always placed an emphasis on safety. He added innovations like front & rear firewalls, a fire extinguisher, and a full roll cage not unlike today's NASCAR designs. In addition to his championship, he also received many other awards at West Haven such as "Top Driver/Mechanic" and "Most Popular Driver." (Shany Photo). |
| | |
| --- | --- |
| We assume that this image is pretty-rare; it captures the late Bobby Stefanik when he was piloting the late Freddie Doolittle's coupe on the dirt. Freddie (that's him working at the front of the car), employed some of the best drivers in New England and his cars were always considered top-notch asphalt machines. Stefanik was one of the most popular drivers of his era, especially at the former Riverside Park Speedway. Three-times a track champion (1970, 71, and 73), he recorded a total of 21 modified division wins between the years 1969-79 at the storied Agawam, Massachusetts oval. (Dugas Photo, Courtesy Bob Potter). | |
| | |
| --- | --- |
| | This one remains a personal favorite of yours-truly. As a kid, I was a huge fan of the late "Wild Bill" Scrivener and this Rambler-bodied creation he drove for car owner the late Dick Duff (that's him on the right). Scrivener had burst upon the shoreline oval scene of the early-60s, quickly becoming one of biggest stars of the then immensely-popular Bomber division where he became a champion. Later advancing to the headlining Modifieds, he continued to frequent victory lane on a regular basis. We're not-sure, but we think this image was captured on Easter Sunday of 1974, the day of Bill's final career feature victory at Waterford. (Dugas Photo Courtesy Steve Kennedy). |
| | |
| --- | --- |
| Here's the period-perfect coupe (sure was a pretty-one), of the infamous Jewish Lightning Racing Team headed-up by Bruce Cohen, Lew Boyd, and Dr. Dick Berggren at Waterford circa 1970. Normally chauffeured by Boyd, the boys had their pal, the popular Lou Austin doing the driving at this early-season shoreline oval outing. According to Bruce and Lew, it was a "shakedown" cruise for their ride which they customarily campaigned at among other places, Norwood Arena, and on the Lakeville Speedway dirt. Seems that there were a lot of heavy-hitters at the Speedbowl that day, and they just-missed grabbing a qualifying slot for the feature. Special thanks to our good friend Mark LaJeunesse for providing this shot! (Courtesy LaJeunesse Family Collection). | |
| | |
| --- | --- |
| | When nicknames were all the rage in our sport, this racer was known as "Top Wop" owing to his ancestral roots….. Seen here with the late Freddy Doolittle coupe (that's Freddie on the right), this guy is a New England Auto Racing Hall of Fame member, and for good-reason. A true "Travelin' Man," Ron Narducci competed at over sixty-tracks during a career lasting over three-decades. Among his many triumphs was the 1958 Sportsman Championship at what was then known as the "New London-Waterford" Speedbowl. NASCAR titles followed, as did success on the New York State dirt circuit. He retired from driving in 1982, but stayed active in the sport for several more years as an official with DIRT. (Shany Photo, Courtesy Bob Potter). |
| | |
| --- | --- |
| As a 3-time NASCAR National Sportsman Champion, a member of the famed "Eastern Bandits", and an inductee of both the New England Auto Racing Hall of Fame and the DIRT Motorsports Hall of Fame, little has to be said about this guy that hasn't already been written. Known as "The Champ", Rene Charland won over 250 features and countless track titles races during a career that spanned 4-decades. He's seen here with just one of the coupes that he guided to victory lane during his long, storied career. (Photo Courtesy John Grady). | |
| | |
| --- | --- |
| | The Joe Palmieri #VO team was certainly a successful operation at Plainville, but they also did well at many other tracks in New England such as Waterford, Riverside Park, and as-seen here, the expansive high-banks of Thompson Speedway. Veteran modified shoe Ronnie VanNesse was behind the controls of Joe's always sharp-looking coupe when this nice shot was captured in the 1970s at the "Big T." (Photo Courtesy John Grady). |
| | |
| --- | --- |
| Here's popular Lou Caso trackside at the shoreline oval during his days as a Modified chauffer on April 20, 1969. Though he never scored a feature victory in the Speedbowl's headlining class, he was a Bomber division standout taking multiple main event wins in the popular support class. Remaining a staple of the Speedbowl scene for many years, Caso departed the sport as the 1970's began. The early season shows at Waterford customarily attracted many "invaders" from other area tracks. That's Plainville Stadium regular Ronnie Mayer in his #41 in the background. (Shany Photo Courtesy Chris Langer). | |
| | |
| --- | --- |
| | Another classic Waterford shot, here's Preston, Connecticut's Art Moran Sr. seated behind the controls of his signature #66. Moran was a steady-competitor at Waterford for many years, recording a number of feature victories. As a side-note, he was one of the first racers in Speedbowl history to successfully employ power-steering, a feature of this memorable coach-bodied creation. The year is 1974, and Art scored a pair of feature victories for the season. (Shany Photo Courtesy Chris Langer). |
| | |
| --- | --- |
| BONUS SHOT: Last week's photo of this driver caused so-much buzz, we thought we'd include another image of him as this installment's "Bonus Shot." Simply one of the greatest to ever sit behind the controls of a race car, the late "Dynamite" Ollie Silva was both a huge winner, and one of the most-admired competitors in all of short track racing. Inducted into the New England Auto Racing Hall of Fame in 1998, Silva recorded over five-hundred feature victories over the course of a career that started in 1949 at the long-shuttered Dracut, MA. Speedway and concluded in 1980. He was victorious in Modifieds, Supers, Sprint Cars, and Cut-Downs. This one sees him behind the controls of one of his early coupes at Hudson Speedway in New Hampshire. (Photo Courtesy R.A. Silvia Archives). | |
That's it for this week. Email me at: foreveryounginct@gmail.com

This Weeks Comments:

Charlie said:

That Doolittle coupe was built by Jean Michaud from Fitchburg MA. It was the first modified that my friend Tom Hoyle and I ever worked on. Freddie was something else. He even built his own engines, mostly oldsmobile's. A lot of them later moved to big block chevy's wich this car had. THose were some fun times working on a race car in a TV repair shop!

Dave Dykes said:

Neal, email me at the address on the top of the page; I think I can lead you to someone that can help you out with those records.

Jake said:

Dave I stand corrected on the pinto/gremlin Olie thing, Ijust remember how fast that Raty gremlin was

Dave Dykes said:

Jake, it might have been a bit "ratty" but you're correct; it sure was FAST!!! Watching Ollie was worth the price of admission on any track. He won so-many races in different versions of the "Big 0" it's easy to get confused!

tom hoyle said:

that picture of Bobby Stefanik was taken at the All Star race at Bridgeport New Jersey I was standing there when it was taken

Dave Dykes said:

Tom, Charlie, Thanks so-much for the information on the shot of Bobby & Freddy on the dirt. We really like that image!

Jay said:

Does anybody have any pics or info on Mike Daliessio # 72

don macrino said:

Dave, I dropped the photos off to your home yesterday. Just making sure you recewived them.

Rich O said:

anyone have any pix of a 66 or 67 nova bodied mod during early 70's driven by Johnny Tripp?? He was I believe a Seekonk regular who appeared at the Speedbowl on occasion Great site brings back many great memories

Steve K said:

Rich-
Yes, I've got at least one of the 38, maybe it's around 1973-4...