COLUMNS & FEATURES
FROM
SpeedwayLineReport.com
Click On Link
FRIENDS

Semi-Monthly Racing Commentary with
LEW BOYD


OCTOBER 29
HORN ATTACK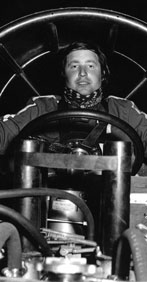 By Dave Dykes CLICK ON PHOTOS FOR FULL SIZE
Thanks again to our good friend R.A. Silvia's willingness to share his vast archive of vintage New England racing photographs, this week we're able to feature images from Massachusetts' former Pines Speedway and the still-operating Hudson Speedway in New Hampshire. Both raceways have fascinating histories rooted in the late Oscar Ridlon's old URDC circuit. To learn more about the rich history of the Pines Speedway (as-well as Westboro and Norwood), visit our pal Lew Boyd at www.coastal181 and pick up a copy of his great book "Hot Cars Cool Drivers." Lastly, don't forget, Hall of Famer Billy Greco will be hosting a Racing Movie Party on Saturday December 8, 2012 at the Polish-American Club on 194 West Spring Street in West Haven, Connecticut. Doors Open at 7:00 PM. Raffle donations are currently being sought. Visit www.near1.com for directions and more details on this event. As-always, email reaches me at foreveryounginct@gmail.com
Taking A Peek At The Pines & Hudson….
| | |
| --- | --- |
| Seen here in action during his prime (and looking a bit mischievous), this is none-other than the late Oscar "Cannonball" Ridlon. He was a hugely-influential figure within the realm of New England auto racing, and especially in the formation a class that would eventually become known as the Super Modifieds. A former big car & midget racer of epic proportions, he later became the owner & promoter of the former Pines Speedway in Groveland, Massachusetts, and also New Hampshire's Hudson Speedway. At one time, his URDC circuit was one of the most successful of sanctioning bodies, producing talent that would become household names in our region. Guys like Hall of Famers Ollie Silva, Don MacLaren, Bentley Warren and Paul Richardson in naming just a few, all raced for Ridlon early in their careers. Also at the helm of Maine's Arundel Speedway for a time, he was the personification of an old-time promoter, ruling his tracks with an often-controversial "Iron-Fist" mentality. Some of the stories told by the drivers that raced for him are truly the stuff of our region's racing folklore. A New England Auto Racing Hall of Fame member, Oscar passed-away in 1973 but not before making several important contributions to the sport he was involved-with for decades. (Photo Courtesy R.A. Silvia Archives). | |
| | |
| --- | --- |
| | Before stock cars became all the rage in New England during the post-war years, it was all-about the midgets; here's a great 1947 image from Massachusetts' former Pines Speedway that features 3 of the best drivers in the division. Seated behind the controls of the mighty Offenhausers of the Ted Koopman team are Eddie Casterline #7, Joe Sostilio #17, and Dick Shuebruk #19. Both Casterline and Sostilio are members of the New England Auto Racing Hall of Fame. The Pines Speedway hosted some epic midget racing action during its early history. (Photo Courtesy R.A. Silvia Archives). |
| | |
| --- | --- |
| Quite-honestly, we never get tired of running shots of this Pines Speedway graduate, "Dynamite" Ollie Silva. For a generation of New England racing fans, watching this man compete in either a Super or a Modified was in-itself, worth the cost of an admission ticket. He's seen here in his "Little Beaver" coupe. Our friend Lew Boyd wrote in his wonderful book "Hot Cars Cool Drivers" that "The Little Beaver was the car that really stated Ollie Silva." However, to Connecticut race-goers like yours-truly, one victory stands-alone in illustrating a typical show of "Silva Dominance" when the man was in his prime. At the Waterford Speedbowl's early-season open competition Hott Wheels 100 Modified event in 1974, Silva lapped the field not once, but twice to take the win aboard his signature #0 Pinto. Though he staged a brief comeback in 1980, his career effectively ended in 1978 following a devastating crash at New Hampshire's Monadnock Speedway that resulted in life-threatening injuries. Silva, the pioneering star of the New England Super Modified Racing Association and a New England Auto Racing Hall of Fame member, quietly passed-away of natural causes in 2004 at age-75. (Photo Courtesy R.A. Silvia Archives). | |
| | |
| --- | --- |
| | This is Hank Kiazim at the Pines Speedway behind the controls of the "Blaine Special" 5-window coupe during the 1950s. Within a few seasons he would unfortunately become a causality of the amplified dangers of the early days of the sport. A skilled veteran racer, Kiazim lost his life at Hudson in a violent crash during the 1960 season. His passing affected the local racing community immensely; he was a very-popular figure on Oscar Ridlon's URDC circuit with both the fans, and his fellow competitors. (Photo Courtesy R.A. Silvia Archives). |
| | |
| --- | --- |
| Many of the URDC cars that competed at The Pines were truly sharp-looking, and the Ed Bowley-owned #5 chauffeured by Hal Wilcox was no exception. Like many racers of his era, Wilcox had made a winning transition from the midgets to the coupes. In addition to Wilcox, Bowley had some of the best in the business steer his creations over the years including the likes of Bentley Warren, Red Sequin, and Smokey Boutwell. (Photo Courtesy R.A. Silvia Archives). | |
| | |
| --- | --- |
| | Like The Pines, Hudson Speedway also has a great midget racing history (and fortunately, unlike The Pines, Hudson is still with-us). This one captures standout New England open-wheeler Hermie Delisle ready to go at an early Hudson midget event. Delisle was a popular racer during his era, competing and winning at a number of different raceways all up & down the east coast. It was often a busy schedule for these pioneers of the sport. One could race just-about 7-days a week if desired when the midgets were at the height of their popularity following World War II. (Photo Courtesy R.A. Silvia Archives). |
| | |
| --- | --- |
| Seen here piloting the Frank Litwins-owned "Dynamite Special" in early Hudson Speedway action is the late Harold "Red" Cummings, another racer that came to the coupes after a successful stint in the midgets immediately following World War II. Known as the "Yankee Red Head" during his heyday, Cummings was one of the most celebrated racers of his time. In addition to his New England endeavors he also competed on the tracks of the South against the likes of early NASCAR legends such as Fireball Roberts and the Flock brothers. Inducted into the New England Auto Racing Hall of Fame in 2006, Red passed-away at age-87 in 2010. (Photo Courtesy R.A. Silvia Archives). | |
Here's a great color shot from Hudson of New England Auto Racing Hall of Famer, the late Jerry Dolliver. From his HOF biography; "Jerry Dolliver was never known to the national racing community, but he was one of the shiniest gems ever to come out of the Merrimack Valley and certainly one of the most admired. Jerry was born in 1929 in Melrose, Mass. and as a young man set up automotive shop in Kingston, N.H. He never ventured far. Instead, he was always there, steady as the morning sun, always warming customers with a smile. His Sunoco pumps were the epicenter of town talk for decades.
Jerry's racing was the same: nearby, competent, reliable, fan-friendly. It all started in a hulking wire-wheeled ice machine in 1949, and just five years later, he defeated Ollie Silva and Oscar Ridlon's finest to become Champion at The Pines Speedway. Eight championships were to follow, along with scores of victories at more than 15 New England venues. There were cutdowns, modifieds, supermodifieds, sprinters, and midgets. Probably Jerry's most telling accomplishment, though, was his unparalled success with one engine - a flathead built by Hall of Famer Bill Welch. Ever so smoothly, Jerry coaxed that old-time power plant along to over 100 feature wins, right when the vastly lighter and more powerful overheads were sweeping the pit area." (Photo Courtesy R.A. Silvia Archives).
| | |
| --- | --- |
| Seen here pitside early during his career at Hudson is standout New England racer Jim Martel. Hailing from Ipswich, Massachusetts, Jim enjoyed a lengthy career winning many feature races in the process. He remained a crowd favorite and another driver that was well-respected by his fellow competitors for his entire time behind the wheel. Really, don't we all kinda' wish modifieds still looked like this? (Photo Courtesy R.A. Silvia Archives). | |
| | |
| --- | --- |
| | We really like this action shot of Paul "Ricochet" Richardson wheeling a super modified around Hudson Speedway. Starting his storied career at the Pines Speedway in 1965 in the support classes, he soon became one of the premier racers of his region. The very-next year, he won the Hudson Cutdown (early terminology for the class that would develop into the Super Modifieds), championship. In his New England Auto Racing Hall of Fame biography (inducted in 2009), he relayed the following about his early days in the sport; "I had a wife, my first kid, and we lived in my mom's house", remembers Paul. "We had nothing. Not even a road car. But I'll tell you this: We had the fastest race car around." Richardson went-on to become 5th on the all-time NESMRA win-list. Later years saw him competing in the Bush East Series. He retired from the sport in 2004. (Photo Courtesy R.A. Silvia Archives). |
| | |
| --- | --- |
| BONUS SHOT: Just another cool image from our archives of our pal, R.A. Silvia…. Seen here ready-to-roll in one of his signature #54 creations is racer Archie Archambault, Another of the premier players in the birth of the New England Super Modified, note that the machines of Oscar Ridlon's URDC circuit had become full-blown race cars by the time this image was captured displaying little resemblance to the earlier coupes. I'm betting that guiding one of these beasts around Hudson or The Pines was indeed, a handful! (Photo Courtesy R.A. Silvia Archives). | |
That's it for this week. Email me at: foreveryounginct@gmail.com

THIS WEEKS COMMENTS

John Perry said:

Again, Great photos from
Bob Silvia

NELS said:

HAPPY THANKSGIVING DAVE!

mike mordino said:

Have a great holiday Dave im still smiling from last Sunday

Rich Belmont said:

Dave, Bill's party will start at 6PM on Dec. 8th

Dave Dykes said:

Rich, we'll get the time to Billy's party changed. And John you're right; one of the great things about our pal R.A. is his willingness to share his vast archives with everyone. He's a true asset to the vintage racing community. To all - have a wonderfil holiday!

Jake said:

My brother and I seem to remember Ollie Destroying the field at Waterford in the Gremlin not the pinto

Dave Dykes said:

Jake, I can assure you that it was the Pinto. The event was the Hott Wheels 100 and the date was Sunday, May 5th, 1974. If you go to the November 24, 2010 edition of "RTT" there's a victory lane shot from that event. Ollie also set a new 1-lap track record that day of 16.48. He went to the Gremlin tin in later seasons...

Neal Cunningham said:

We were introduced by Walt Scadden at Thompson last week. My buddy and I were Jim Jorgensen's crew on the Flying Zero at Riverside and later partners in the sprint car. I'm interested in geting a list of Riverside feature winners from 1956 through 1962. Is that something you have available and are willing to share?