COLUMNS & FEATURES
FROM
SpeedwayLineReport.com
Click On Link
FRIENDS

Semi-Monthly Racing Commentary with
LEW BOYD


MARCH 18
THE KID WHO
SAYS THANKS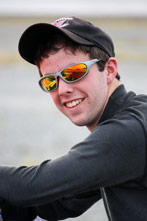 By Dave Dykes CLICK ON PHOTO FOR FULL SIZE
This Wednesday we present another wide-variety of images from the archives. Not following any particular format, there's a little something for everyone in this edition of "Racing Through Time." Special thanks are offered to our Webmaster Tom Ormsby, and also our old pal JoJo Farone for contributing some of this week's images for all of us to enjoy! See you all at the Waterford opener this weekend, and as-always, email reaches me at foreveryounginct@gmail.com
NOTE: We have now put a comment box at the end of the web site. Please feel free to leave your comments.
More "Wednesday Wanderings"…..
| | |
| --- | --- |
| Seen here celebrating an early victory at Connecticut's former West Haven Speedway with a crew member and his young son Frank, is our good friend New England Auto Racing Hall of Fame member Billy Greco. One of the absolute-best of the Tattersall family's United Stock Car Club, Greco was extremely-popular, enjoying a tremendous relationship with the fans having always been very friendly & approachable; something that continues today. Son Frank, who was an integral part of his father's career, got a late start as a driver not climbing behind the wheel until he was in his 50s. The local racing world was stunned & saddened to hear that Frank perished in a traffic accident in 2002 while returning home from a Winston Cup event at New Hampshire International Speedway. Like his dad, Frank was a very-popular competitor. (Shany Photo, Ormsby Collection). | |
| | |
| --- | --- |
| | This one captures the late Frank Greco at the Waterford Speedbowl in the spring of 2002 during his rookie season. As stated-above, he was well-liked at Waterford with both the fans & competitors. Interviewed following Frank's untimely passing, Speedbowl Public Relations Director Pete Zanardi commented that "Everybody just loved him because he was 51 years old and trying to be a race car driver for the first time. He was just a fun guy to be around. A fun guy filled with stories and really part of the legacy of what New England racing is all about. He was just out there this year having a good time with his race car." (Driscoll Photo, Ormsby Collection). |
| | |
| --- | --- |
| Here's one from the collection of our pal, JoJo Farone. Count the checkers on the flanks of this little Garuti Brothers owned "Cut-Down". Think it was a banner season for this pioneering New England racer? His name was Joseph "Moneybags Moe" Gherzi, and besides being a prolific winner during the early days of New England modified racing, he helped bring a degree of class to a sport that was still experiencing growing-pains. When the standard driving-uniform of the day consisted of a t-shirt & blue jeans (often work-worn, adding to the illusion that racin' folks weren't the pillars of society they're considered today), he often appeared in victory lane nattily-attired in a silk shirt and pressed, dress-style trousers. After retiring from driving, he held the post of Racing Director for many years at the late Plainville Stadium. Fittingly, he was inducted into the New England Auto Racing Hall of Fame this year. (Photo Courtesy JoJo Farone). | |
| | |
| --- | --- |
| | Seen here at Connecticut's much-missed Plainville Stadium during the early-1970s behind the controls of John Farone-owned coupe is another former racer I'm proud to count as a friend, Ronnie Wyckoff. Starting his racing career in Florida, he joined the Sportsman ranks at Plainville Stadium after moving North in 1959. Success in the modifieds quickly-followed with numerous wins at an assortment of New England speedplants. Included in those victories are multi-time triumphs in UNITED's "Riverside 500" events, once an absolute-benchmark of the Northeastern racing season. In this scribes opinion, historically-speaking this guy remains one of our region's most-underrated competitors. (Phil Hoyt Photo). |
| | |
| --- | --- |
| Anthony "Jap" Membrino was a truly-exciting driver to watch. Seeing him fly-around the tight ¼-mile confines of Joe Tinty's Plainville Stadium in this wild-looking Walt Kuryn-owned Coach creation was often in-itself, worth the price of a ticket. Starting his career at the United-sanctioned West Haven Speedway, in later-years he went-on to become one of the region's premier racers, and was especially proficient at The Stadium' though he also tasted success at Riverside Park. This Phil Hoyt image captures him celebrating with family following yet-another Plainville victory in the early-1970s. This car is one of the well-remembered of all Plainville rides. It was also wheeled to success by among others, the late Sparky Belmont and the late Tony Mordino. (Phil Hoyt Photo). | |
| | |
| --- | --- |
| | Early-on, fire was even-more of a safety issue in the sport than it is today. Before the advent of things like fuel cells, fire-retardant driving uniforms, and other mandated safety features, scenarios like the one seen here often yielded disastrous results. Fortunately, driver Bill Brown is not in the cockpit of his coupe as it burst into flames in this scary early-70s image from Connecticut's Plainville Stadium – it could have been much, much worse. (Phil Hoyt Photo). |
| | |
| --- | --- |
| Here's a classic "coupe era" shot from Plainville Stadium. Like the earlier-mentioned Jap Membrino, the late Pete "The Rocket" Brockett Sr. experienced his early career success at the West Haven Speedway. Spending over three-decades behind the controls of a Modified, his later efforts were centered on the "New London-Waterford" Speedbowl where he also became a winner. His ride known as "Brockett's Rocket" Pete was always a crowd-favorite, especially at Waterford. (Phil Hoyt Photo). | |
| | |
| --- | --- |
| | The late Lou "Monks" Lazzaro was simply an Icon in the world of dirt track Modified racing, and his record on the pavement wasn't too-shabby either. This shot captures him at-speed on the tarmac at an early Spring Sizzler at Connecticut's Stafford Springs Motor Speedway. We really like Lou's ride – it looks to be a Plymouth Valiant body. Back then, all the cars seemed to have personalities of their own! (Photographer Unknown). |
| | |
| --- | --- |
| Rhode Islander Fred DeSarro was one of the truly-gifted racers of his era. Seen here following a victory in the Sonny Koszella "Woodchopper Special" in June of 1970, he was a top New England Modified shoe for what seemed like eons. The racing media had a field day with the much-publicized "driver-switch" in 1971 when the great Bugs Stevens took the wheel of Koszella's car, and Fred climbed aboard Bugs' vacated Lenny Boehler "Ole' Blue". Truth-be-told, there were no hard-feelings. Fred and Bugs were great friends and remained-so until Fred's death following a tragic 1978 Thompson Speedway crash. Both are members of the New England Auto Racing Hall of Fame, as are Boehler and Koszella. (Photographer Unknown). | |
| | |
| --- | --- |
| | Captured here at New York's Utica-Rome Speedway, few individuals meant more to New England Modified racing than the late "Steady Eddie" Flemke. Starting during the emerging popularity of stock cars in the post-war era, it's estimated that he won over 500 feature events during a career which spanned 3-decades. Along the way, he helped many young drivers get their starts, including Daytona 500 winner Pete Hamilton, and Indy 500 veteran Dennis Zimmerman. As an expert car builder, he designed the "Flemke Front End" a chassis component that remained the standard in Modified construction for years. Ed was among the first inducted into the New England Auto Racing Hall of Fame in 1998. (Grady Photo). |
| | |
| --- | --- |
| BONUS SHOT: As mentioned earlier, the threat of fire was of huge concern during the early days of the sport; it's truly a miracle that more drivers were not injured or even-worse during the sport's infancy. In this shot of the late Johnny Cambino captured at Connecticut's former West Haven Speedway in a car owned by Billy Greco's brother George, you can clearly see at the rear of the car the beer keg utilized as a fuel tank. This less-than-ideal setup often resulted in some explosive and flaming adventures for stock car racings pioneers. Cambino by the way, was one of the absolute-best of his generation, especially at West Haven. (Shany Photo, Ormsby Collection). | |
That's it for this week. Email me at: foreveryounginct@gmail.com

This Weeks Comments

(5 days ago) Tom Ormsby (mod) said:

Sonny Koszella is the owner of John Koszela & Son Inc & Koszella Speed in Conventry, R.I. The Speed Shop is managed by Julie Stefanik, Sonny's daughter. Back in the day of Fred and Bugs driving the cars, the were built in Shop. In the later years I'm not sure, but I think Mike Stefanik might have been building them or using Troyer cars

(5 days ago) nels wohlstrom jr. said:

DAVE GREAT SHOT OF FREDDY!GROWING UP AT THOMPSON EVERY SUNDAY WERE MY BEST MEMORIES! AND FREDDY WAS COOL PEOPLE! SAME WIT BUGSY!!!!!1 I REMEMBER SOME GREAT RACES WITH THEM , MY DAD , BOBBY SANTOS, RICHIE , THE TRAVELIN MAN... I COULD GO ON AND ON! OH I FORGOT LEO THE LION! ONE THING THAT ALWAYS STOOD OUT IN MY MIND TILL THIS DAY... THERE WERE A LOT OF WATERFORD GUYS WHO COULDNT HANDLE THE SPEED THERE! I REMBER THE BOUNTY ON FREDDY! I ALSO NO PUN INTENED REMEMBER LENNY BEING THOUGHT OF KINDA WEIRD... HIS CREATIONS LOOKED LIKE love BACK THEN BUT EVEN JACK TANT HAD TO WORK FOR THE HORSEPOWER TO BEAT HIM! I WAS THERE THE DAY FREDDY PASSED... VERY SAD! I REMEMBER EXACTLY TO THIS DAY WHAT BUGSY DID WITH HIS CAR , AND WHAT HE DID WHEN HE GOT OUT OF IT..... RIP FRED DESARRO! AND AGAIN DAVE... THANK YOU!

(6 days ago) Ed P said:

Question - I thought Sonny Koszella was in the lumber business. Did he built his own cars. if not, does anyone know who did?