COLUMNS & FEATURES
FROM
SpeedwayLineReport.com
Click On Link
FRIENDS

Semi-Monthly Racing Commentary with
LEW BOYD


DECEMBER 27
OLLIE SILVA - WINNING WITHOUT WORDS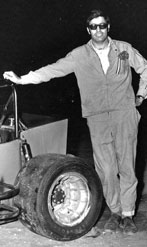 By Dave Dykes CLICK ON PHOTOS FOR FULL SIZE
We open this week's edition of Racing Through Time on a sad-note, as it was recently learned that Sondra Grady, wife of our longtime friend and veteran Northeast racing photographer John Grady passed-away on December 1st following a courageous battle with cancer. Our sincere condolences are offered to the entire Grady family on this somber occasion. Cards reach John at 2138 Primrose Lane, Schenectady, NY 12309. Memorial contributions may be made to Community Hospice (St. Peter's Hospice Inn), 315 Manning Blvd., Albany, NY 12208 or St. Stephen's Episcopal Church, 1935 The Plaza, Schenectady, NY 12309. Extra-special thanks to this week's contributors, our friends Roger Liller, Tom Ormsby, R.A. Silvia, and NEAR Hall of Famer, Bob Potter. And a special thanks to our webmaster Tom Ormsby and Ken Meisenhelder of KGM Video for adding a Riverside Park Speedway video this week. As-always, email reaches me at foreveryounginct@gmail.com
It's Wednesday Again, And We All Know What That Means!
| | |
| --- | --- |
| First on the slate this week is a "New London-Waterford" Speedbowl victory lane shot of the immortal Melvin "Red" Foote courtesy of our Webmaster, Tom Ormsby. Behind the controls of his familiar #J2, Foote's long career was a colorful and well-traveled affair. A member of the New England Auto Racing Hall of Fame, here's an excerpt from his NEAR biography; Melvin "Red" Foote ran his first race in 1948, at Kingston, RI. Carl Morrow and Ralph LeGendre co-owned Foote's first car, a silver #1 coach. It wasn't long before the "racing bug" bit Foote, and he was competing at Norwood on Thursdays and Saturdays, and Lonsdale on Sundays, with regular visits to Westboro when time allowed. He won championships at the Waterford Speedbowl in 1953, and again in 1958. He also took down a championship in Plainville in the 50's, competing in the United Stock Car Racing Club. The 60's found Foote racing with NASCAR, winning races from New England to the Carolinas to Daytona. It was during this period that he became one of the "Eastern Bandits", along with fellow "bandits" Ed Flemke and Rene Charland. Red took down a championship in North Carolina in 1965. You have to love the snazzy "racing jacket" worn by pioneering Speedbowl flagman, Loren Card. (Shany Photo, Tom Ormsby Collection). | |
| | |
| --- | --- |
| | And from our friend racing historian Roger Liller comes this classic Shany Lorenzent image of Speedbowl Icon Don Collins behind the controls of his #106 "Little Jewel" cut-down. Arguably the greatest driver to have ever emerged from the shoreline oval he set the standard from his debut in the early-fifties until his retirement at the dawn of the seventies. He was the first driver to amass over one-hundred victories (including both Modified & Non-Ford competition), the first to garner five championships, and perhaps more importantly, he was among the first to set an example in true-sportsmanship and class. Inducted into the New England Auto Racing Hall of Fame in 2005, his career actually began at the Thompson Speedway in 1948 when he'd built a car for another would-be racer. When the guy didn't show-up, a young Collins took the wheel, and we all know the rest of the story. His career a relatively brief-affair by today's standards, it's anyone's guess how many more checkers waited had he not called-it-quits in 1970 while still in his prime. (Shany Photo, Roger Liller Collection). |
| | |
| --- | --- |
| Here's another nice one from our friend Roger Liller. Flanking his potent Garuti Brothers-owned #14 cutdown at New York's former Rhinebeck Speedway is New England Auto Racing Hall of Famer, the late "Moneybags Moe" Gherzi. Already an established star when this shot was captured, he was one of the most-prolific winners during the sports infancy. Often nattily-attired on race night, Moe bought a degree of class to the sport when greasy t-shirts seemed the norm. He earned his nickname via a penchant for claiming some of the biggest purses of the era. After vacating the driver's seat, he served a long residency as Race Director at Connecticut's late Plainville Stadium. Rich and Ray Garuti are also members of the HOF. Roger commented about this photo that "Moneybags" in the #14 raised a lot of consternation at Rhinebeck with drivers of the full sized coupes. Link Pettit, an Albany area racer with many wins told me that he couldn't see those cutdowns well, and often didn't know they were there until he felt a bump." (McDowell photo by Les King, Roger Liller Collection). | |
| | |
| --- | --- |
| | And here's a final one from Rhinebeck courtesy of Mr. Liller. States Roger about this positively-classic image; "From left-to-right is Rex Records, president of the United Stock Car Racing Club and driver Ray Brown (dig the shirt!). Next to Brown is the starter (whom I can't remember at the moment), and finally, Steve Iko the promoter. Brown won all-over, and I last saw him race in Ed Darrell's #83 Offy at Danbury, CT. in the early-sixties. A budding young driver was also there at that race driving the Mataka #11. He was Mario Andretti." An extremely-talented racer, Brown was the 1950 Riverside Park UNITED champion. He was also the titlist that same year at Connecticut's Plainville Stadium back in the days when one could race 7 days a week. He was a resident of White Plains, NY and posted an impressive New England racing resume during the formative years of the sport. He was also an occasional competitor at the "New London-Waterford" Speedbowl located on the Connecticut shoreline. (McDowell photo by Les King, Roger Liller Collection). |
| | |
| --- | --- |
| We've ran similar shots of this driver and car before, but we really like this one as it's just so-representative of that classic 50s-era Shany Lorenzent style of racing photography that we all love. This is a significant image not-only because it captures John Savage Sr., one of the Waterford Speedbowl's true pioneers, but also because of the car. This was one of the very early rides campaigned by famed car owner/builder and New England Auto Racing Hall of Fame member, Art Barry of Preston, CT. For over half a century, Barry creations have been landing in victory lane with some of the absolute-best drivers in the business. (Shany Photo, Roger Liller Collection). | |
| | |
| --- | --- |
| | Here's another Waterford gem from the 1950s. Seen here is the late Tommy Mitchell, a budding young star of the Non-Fords. Mitchell was one of the top drivers in the division, which served as a support class to the headlining Modified Sportsman for a number of seasons. Sadly, he was killed in a tragic highway accident at Westbrook, Connecticut's "Singing Bridge" in March of 1955. The crash also claimed the lives of fellow Non-Ford racers Tommy Van Epps (the division's defending champion), Jerry DeGrossa, and Bill Thompson. Already reeling from a 1954 campaign that saw the on-track death of Jack Griffin and critical injuries sustained by Hank Steven and Larry Clarke, to say that the news saddened the local racing community would be an understatement. It remains one of the saddest chapters in the history of the Speedbowl. (Shany Photo, Roger Liller Collection). |
| | |
| --- | --- |
| Meet Joe Pablack, one of the unsung heroes of what was the "New London-Waterford" Speedbowl of the 1950s. We admittedly don't know much about Mr. Pablack, but this timeless shot is a real slice of history from the 'Bowl. Note just how "stock" these early racing machines were, and the 3-digit number (common in the "old daze"). Once-again, another early Shany Lorezent image courtesy of our pal Roger Liller that we couldn't resist sharing this week. (Shany Photo, Roger Liller Collection). | |
| | |
| --- | --- |
| | To a certain degree, the late George Pendergast gets short-changed when it comes to discussing the racing feats of drivers of his time. Pendergast was in-fact, a noteworthy winner grabbing checkers all-over New England during the much-heralded "Coupe Era." Perhaps overshadowing his accomplishments was a fun-loving persona. Ever-the-Rogue (in a good-way), few escaped George's practical jokes and desire to make racing an absolutely-entertaining endeavor both on & off the track (just ask his old pal, NEAR Hall of Famer, Billy Harman). This shot that comes to us via our friend and New England Auto Racing Hall of Fame member, the much-celebrated Bob Potter captures George behind the wheel of an early couple crafted by longtime New England car owner the late Freddie Doolittle. (Photo Courtesy Bob Potter, Photographer Unknown). |
| | |
| --- | --- |
| A typical Saturday night skirmish at (what we believe to be), Connecticut's much-missed Plainville Stadium of the early-70s finds the cars of Lou Toro (#101), Reggie Ruggiero (#59), Tony Mordino (54X), and the coupe of Don Spazano to the far-right. That's Tony holding his helmet and surveying the damage to his Ronnie Berndt-owned North End Auto Parts mount, and that's Don in the white t-shirt. Both Mordino and Ruggerio are members of the New England Auto Racing Hall of Fame. Lotsa' feature victories represented in this shot! (Phil Hoyt Photo). | |
| | |
| --- | --- |
| | Absolutely one of the best of his time, here's the late Ted Stack following a Speedbowl victory in the famed Sharkey #44. Though he scored heavily at several other New England raceways (which is often overlooked historically-speaking), it was probably Waterford that garnered him the most success. A multi-time champion (1961 in the Modifieds, and 1957 & 60 in the Non Fords), He accumulated a combined total of 71 feature victories at the shoreline oval. Stack drove for many of the best teams of his era and his services were always in high demand. (Shany Photo, Tom Ormsby Collection). |
| | |
| --- | --- |
| BONUS SHOT: Meet New England Auto Racing Hall of Famer the late Oscar Ridlon, once a very-influential figure within the realm of New England auto racing, and especially in the formation of a class that would eventually become known as the Super Modifieds. A former big car & midget racer of epic proportions (as-seen here), he later became the owner & promoter of the former Pines Speedway in Groveland, Massachusetts, and also New Hampshire's Hudson Speedway. At one time, his URDC circuit was one of the most successful of sanctioning bodies, producing talent that would become household names in our region. Guys like Hall of Famers Ollie Silva, Don MacLaren, Bentley Warren and Paul Richardson in naming just a few, all raced for Ridlon early in their careers. Also at the helm of Maine's Arundel Speedway for a time, Ridlon was the personification of an old-time promoter, ruling his tracks with an often-controversial "Iron-Fist" mentality. Some of the stories told by the drivers that raced for him are truly the stuff of our region's racing folklore. Oscar passed-away in 1973, but not before making several important contributions to the sport he was involved-with for decades. For more history on Oscar and the URDC circuit pickup a copy of our pal Lew Boyd's great book "Hot Cars, Cool Drivers" at www.coastal181.com (R.A. Silvia Archives). | |
Riverside Park Speedway Twin 35 Lap Modified Features
April 24, 1999
Thanks to our friend Ken Meisenhelder of KGM Video for permission to use this video.
This video is over 40 minutes long, so make a stop at the Budweiser stand first.
That's it for this week. Email me at: foreveryounginct@gmail.com

COMMENTS

DebL said:

Were there really that few people who attended?? I went there often in the 70's and it was always standing room only.

Tom Ormsby (mod) said:

Yes, Thanks to Six Flags who made it as hard as possible on the race fans. Making them park across the street, charging for parking and you had to walk a mile to get to the track. They did everything they could so they could claim it was the attendance as the reason to close the track as they intended from the beginning to put the Superman roller coaster there.

DebL said:

It's always cool to look at the drivers pictures with the roller coaster in the background. It's probably the track I miss the most.
Tony Mordino said:

Dave,
I (like many) look forward to this column every Weds, keep up the great work.

PEG GAUDREAU said:

LOVE THE PICTURE OF TED STACK HE WAS A GREAT DRIVER BUT MORE THAN THAT A WONDERFUL PERSON

Don Macrino said:

Ted Stack was my childhood hero. He lived across the street from my uncle Charlie Pinch who was a cop in the pits. Ted operated a dozer and built a go kart track for us in the woods off of Vauxhall Street in Waterford. It was a kid's dream come true. We were racing go karts and our hero created the track for us.
I remember the pink and white 44 like it was yesterday.
I agree with the prvious writer that Ted was a great driver and an equally nice person. Thanks Dave.

Dave Dykes said:

Hi Don, Though I'd watched Ted race for years as a kid at the Speedbowl, I didn't get to meet him until many years-later. At a NEAR Hall of Fame Induction Ceremony, I sat with him, and longtime friends Peg & Al Gaudreau (owners of the famed "Buddah's Bullet" that Dick Dunn drove to ultra-success). Peg is the "previous writer" you mention (hi Peg!). Ted was simply a nice man and a hell of a racer that was so-respected by his peers and the fans. Historically, he remains very underrated in his accomplishments within the sport.

bruce b cohen said:

Remember Joe Mac in this Doolittle car circa 1964,it was painted orange, Keep RTT and those great Shany pictures coming Dave!!!