COLUMNS & FEATURES
FROM
SpeedwayLineReport.com
Click On Link
FRIENDS

Semi-Monthly Racing Commentary with
LEW BOYD


JANUARY 29
THE CALL OF
THE WALL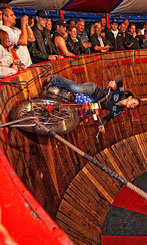 By Dave Dykes CLICK ON PHOTOS FOR FULL SIZE
Unfortunately we begin this week on a sad note, as we received word from our pal NEAR Hall of Famer Denny Zimmerman on Monday that his fellow "Eastern Bandit" and HOF member the legendary Red Foote passed-away on Sunday. Our sincere condolences are offered to all of Red's family and friends. Special thanks go out to those who contributed to this installment of "RTT" including Roger Liller & Bruce Ellis, Mrs. Linda Holmes-Watson, Steve Kennedy, Mal Phillips, and Walter Jablonski. Also, a big "thumbs-up" to Webmaster Tom Ormsby for getting everything posted to the cyberwaves each & every week without-fail. Lastly, get-well soon wishes to our friend & longtime New England auto racing writer Phil Smith who's presently going through some health issues. Until next-time, have a great week! Email reaches me at foreveryounginct@gmail.com
More Mid-Week Modified Memories….
| | |
| --- | --- |
| Seen here at Connecticut's "New London-Waterford" Speedbowl of the 1950s behind the controls of his familiar #J2, the long career of the late Melvin "Red" Foote a colorful and well-traveled affair. A member of the New England Auto Racing Hall of Fame, here's an excerpt from his NEAR biography; Melvin "Red" Foote ran his first race in 1948, at Kingston, RI. Carl Morrow and Ralph LeGendre co-owned Foote's first car, a silver #1 coach. It wasn't long before the "racing bug" bit Foote, and he was competing at Norwood on Thursdays and Saturdays, and Lonsdale on Sundays, with regular visits to Westboro when time allowed. He won championships at the Waterford Speedbowl in 1953, and again in 1958. He also took down a championship in Plainville in the 50's, competing in the United Stock Car Racing Club. The 60's found Foote racing with NASCAR, winning races from New England to the Carolinas to Daytona. It was during this period that he became one of the "Eastern Bandits", along with fellow "bandits" Ed Flemke, Denny Zimmerman, and Rene Charland. Red passed-away last Sunday in Chesterfield, Virginia at age 85. Our sincere condolences go out to his family and may friends. For Red's Obituary <<CLICK HERE>> for the story on The Speedway Line Report Website. (Shany Photo, Mal Phillips Collection). | |
| | |
| --- | --- |
| | From the collection of Bob Ellis via our friend Roger Liller comes this terrific shot of the late SNYRA driver Doug Benjamin taken at Brewster, NY in 1951. We'll let Roger fill us-in; "Doug was one of the pioneers of SNYRA in its infancy and raced at all their early pre-Danbury tracks. Doug made his home in Mahopac, NY and raced at Arlington, Peekskill, and Middletown also. Many fans of the era remember the "easter egg 50" even if they can't remember who drove it. It was a very distinctive looking car, and was usually found mixing it up near the front of the pack because Doug was a very persistent and competitive driver who often got more out of his car than it would often be capable- of. Sadly, Doug was killed in a highway accident in 1960 on his way home from Danbury after an early evening rain-out. The Brewster Speedway (about 10 mi. west of Danbury), held a lot of promise for infant SNYRA in its quest for a permanent home. After some teething problems at Somers and Patterson New York in 1948-49, Brewster seemed to be the place to be in 1950. Unfortunately after 2 successful seasons, the owner suddenly passed away and the property went up for sale for housing development." As-always, thanks go out to Roger and Bob for providing us with a glimpse of early SNYRA history! (Photo courtesy Bob Ellis via Roger Liller). |
| | |
| --- | --- |
| Captured here in 1957 at Connecticut's "New London-Waterford Speedbowl, our friend the late Dick Watson was inducted into the New England Auto Racing Hall of Fame in 2003, and justifiably-so. Dick began and ended his career at Waterford. From that first race in 1953 until his retirement in 1976, he competed at tracks across New England including; West Haven, Plainville Stadium, Lonsdale, Seekonk, Langhorne (dirt & paved), Norwood Arena, Thompson Speedway, & Stafford Motor Speedway. His first victory came at Plainville Stadium. Among his most notable rides were the Bob Garbarino #V-4"Mystic Missile" and the Congdon #75 as seen-here. In 1966 he moved to the NASCAR Modified circuit, winning the Thompson World Series. He scored top-ten point finishes at Thompson in 1966 and '67, and at Stafford in '67 and '68 competing against some of the very best drivers of the era. Dick also competed in several Grand National (now known as Sprint Cup) events. In 1969, at the Thompson 200 he was running fifth on lap 180, with eventual winner David Pearson, when a mechanical failure forced him out of the race with an 11th place finish. In 1972 he returned to Waterford, again experiencing great success at his old haunt. Dick hung up his helmet after a violent crash during a qualifying heat at the shoreline oval in 1976, where he suffered a concussion, lower back injuries, and several broken ribs. (Shany Photo). | |
| | |
| --- | --- |
| | Joey "Pops" Trudeau was a fan-favorite at the Speedbowl for decades, and his winning reputation kept him in high-demand with all of the top teams of the early days. This shot captures him in 1971 behind the controls of Charlie Smith's potent coupe; it was the season in-which he was crowned modified track champion at the shoreline oval after having come-close on several occasions. Curiously-enough, Trudeau took the title without the benefit of a single feature victory; consistency was the key! (Shany Photo courtesy Walter Jablonski). |
| | |
| --- | --- |
| Pictured here at Waterford in the early-1970s, Mike Beebe remained a faithful Waterford Speedbowl modified competitor for ages. His winning career spanned a period that saw great technological strides in the sport. While it all started during the much-heralded "Coupe Era" his run as a top Modified chauffer concluded in an age of "store-bought" chassis, ultra high-dollar motors, and contemporary tin-work. He remained a class-act and a threat to win right-up until his retirement from the division. This neat creation remains one of the most fondly-recalled rides of Beebe's career. (Shany Photo). | |
| | |
| --- | --- |
| | It's a debate that still rages today, decades after it occurred. Just who had the first Pinto-bodied pavement Modified in New England? With all due-respect, New England Auto Racing Hall of Fame member Bob Judkins of #2X fame often gets the nod in-print, but the truth of the matter is that it was this guy who beat him to the punch. Waterford Speedbowl regular Seabury Tripler debuted this car only weeks before Judkins unveiled his Pinto. Interestingly-enough, Judkins, who was a NASCAR regular, initially ran unsanctioned events-only. He had to wait for NASCAR to approve his Pinto – something that the late Jack Arute Sr. (another NEAR Hall of Fame member), of Stafford Motor Speedway was instrumental in making happen. (Shany Photo). |
| | |
| --- | --- |
| Here's a great shot of the late "Wild Bill" Scrivener and his team captured in the pit area of Connecticut's high-banked Thompson Motor Speedway during 1974 season. Bursting upon the scene at the "New London-Waterford" Speedbowl of the early-60s, he quickly became one of that tracks biggest stars of the immensely-popular Bomber division where he became a champion. Quickly-christened "Wild Bill", his driving style was to-say-the-least, quite a spectacle. Later advancing to the headlining modifieds, he continued to frequent victory lane on a regular basis with his final feature triumph coming on Easter Sunday, 1974. (R & R Racing Photo). | |
| | |
| --- | --- |
| | Lots of times, I look through my files and find multiple shots of the same car & driver; this is one of them. Seen here at Thompson, the driver is Art Michon, a talented shoe who during the 1970s recorded a number of fine modified finishes at a variety of New England modified haunts. I recall his neat-looking little coupe quite-well, and distinctly remember liking the way it looked. Like many other tracks, the "Big T" still had some cool pre-war tin in its modified fields at a time when the Pinto/Vega invasion was in full-swing. It's hard to beat tradition, and Art's ride certainly fit that bill! (Steve Kennedy Photo). |
| | |
| --- | --- |
| Here's a rather-unique shot from Connecticut's Stafford Springs Motor Speedway captured during the 1960s. On the outside in our late friend & New England Auto Racing Hall of Fame member, Dick Watson in the Bob Garbarino (also a Hall of Famer), Mystic Missile #V-4. In the middle and obviously celebrating another success during his long storied career, is yet-another Hall of Famer, the late Gene Bergin. The car is the potent #M-6 owned by (yup, another Hall of Fame member), the late Beebe Zalenski. We believe it to be standout New England modified shoe Don Flynn in the #25 completing this all-star trio. (Photographer Unknown). | |
| | |
| --- | --- |
| | In the 1970s, Connecticut's much-missed Plainville Stadium staged some of the greatest open-competition shows ever seen in New England. Customarily held on Wednesday evenings, these events drew the biggest modified names in the region. Throw-in the always tough Plainville regulars and you were guaranteed an exciting show. See here at one of those races are our pals Ronnie Wycoff in the Billy Zenobi %, and that's the late Dick Watson wheeling the Norm Kies #21. On this night, they'd finish first & second with Dick prevailing to capture one of the many Plainville open-comp shows of his career. (Phil Hoyt Photo). |
| | |
| --- | --- |
| He was one of the biggest names to have emerged from the "New London-Waterford" Speedbowl during its early history, and no-doubt sold a lot of tickets during the shoreline oval's formative years. Simply-stated, the late Dick Beauregard was a huge winner. During a relatively-short Speedbowl career of only a decade, he managed to notch a pair of modified titles along with over-40 feature victories. Both controversial and immensely-popular at the same-time, Dick retired in 1962 as a champion. This one captures him aside one of his more recognizable rides, the potent Black Panther #1. (Shany Photo). | |
| | |
| --- | --- |
| | BONUS SHOT: Here's the result of a little coupe-era mishap at what was then still-known as Connecticut's "New London-Waterford" Speedbowl (shortened in later years to just the "Waterford" Speedbowl). Seen here overturned and with its front-clip torn-to-shreds is the #19 of the late George "Moose" Hewitt. As tough as competitor as you'd ever find, Moose came to the modifieds after a successful stint as a motorcycle racer. The move paid-off in spades; he became a 5-time Modified champion at the Bowl', scoring a career-total of twenty-three feature victories in the Modified, SK Modified, and Bomber divisions. In addition to his local triumphs, he also won at the Stafford Springs Motor Speedway on multiple occasions, including a stunning victory in the 1975 Winston 100. Sadly, the popular Uncasville, CT. chauffer passed-away of natural causes in February of 1997 while still very-much in his prime as a driver. (Shany Photo). |
That's it for this week. Email me at: foreveryounginct@gmail.com

COMMENTS

JJ said:

I belive the car Moose wrecked was during the first practice as the belt strap is still on Right Rear. Car was owened by Craig Krchoff and George Brennen, longtime owner of the 19 for which Moose won 5 track titles and raced form the northeast to Daytona Int. Speedway in 1976.

mike a. said:

i just love this site. it brings back the real days of racing.

Dave Dykes said:

Nancy, you're very welcome. It was my-pleasure to do the piece on your dad, and thanks very-much for the clarifications. The photo is courtesy of Bob Ellis via Roger Liller, just 2 of the fine folks I've been able to connect-with via "RTT." Being based in eastern CT. Im trying to learn a bit-more about the drivers like your dad that also competed in the New York State region, and Roger has been just-super on helping me-out on the subject!

Nancy Benjamin-Speary said:

Mr. Dykes, I want to thank you for the very nice article about my Dad, Doug Benjamin. To me he was a great man, a great racer, and an even better father! I did want to clarify one or two things in your article though. My Dad's cars over the years were typically white with polka dots and were usually #50. I only remember hearing people refer to it as either the "Polka Dot 50" or the "Wonder Bread Car", I had never heard it referred to as the "Easter Egg 50". Also, my Dad was killed on July 8, 1961 while on his way to the Danbury Racearena, not on his way home after the races ended. I very clearly remember this, because although I was only 11 at the time, I usually went with him to the races. But that night my mother talked me out of going because it was raining and she did not think they would be racing, even though my Dad said as he had at other times when it rained, "You can't ever tell, it might not be raining in Danbury"! But unfortunately, he had a horrific accident that night and was killed instantly.
It's true, the good unfortunately sometimes die way too young. My Dad was only 41. It was always good to know how highly he was thought of. To this day, I still have people who knew him and meet me say what a wonderful man he was.
Again, thank you for the lovely article, it meant a lot to me and I will pass it along to my family.
Thank you, Nancy Benjamin-Speary

Lary P said:

M6 with Bergin was one of my favorites! notice the push truck from Ferrara with the Spring on the roof!