COLUMNS & FEATURES
FROM
SpeedwayLineReport.com
Click On Link
FRIENDS

Semi-Monthly Racing Commentary with
LEW BOYD


JANUARY 29
THE CALL OF
THE WALL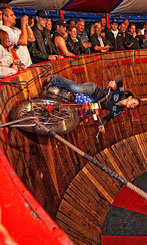 By Dave Dykes CLICK ON PHOTOS FOR FULL SIZE
So, is everyone coping well with the remnants of the "Blizzard of 2013" on this fine Wednesday? I hope-so….. This week we present another varied selection of shots both from the "RTT" archives, and a few from our very-valued contributors. Special thanks go out to Carolyn Grey, a member of the Congdon family who fielded winning cars at Waterford for years, for sending-along some images from her family's personal scrapbooks, and also to New York-based racing historian Roger Liller for another dynamite contribution from his region. And as-always, kudos to friend & Webmaster Tom Ormsby for putting-up with us and putting together a video this week "Remembering Red Foote" who passed away February 3rd. Have a GREAT week! As Email reaches me at foreveryounginct@gmail.com
Another (Very) Varied Selection!
| | |
| --- | --- |
| Our friend New York State racing historian Roger Liller his been gifting us with a ton of wonderful vintage images lately, and this one's a classic! Seen here at Rhinebeck, NY. during the early days of his distinguished racing career is New England Auto Racing Hall of Fame member, the late Chauncey "Jokko" Maggiacomo. We'll let Roger add some information to this great photo: "This is Jokko at Rhinebeck with the Gordon Ross #19. Gordon owned a welding shop in Rhinebeck and he built some excellent race cars having such drivers as Rhinebeck native and former midget driver Bob Tator, Jokko, and, later Hudson, NY. native Doug Garrison. You probably have seen pictures of the #19 at Riverside Park in Agawam, Massachusetts as-well as other New England tracks." (McDowell photo by Les King courtesy Roger Liller). | |
| | |
| --- | --- |
| | Lou Toro (real name Louis Conforte), was a fierce competitor for decades, no-matter what the venue. Like many other racers from his era, running as much as 4-times weekly was commonplace. He was particularly good at UNITED haunts like West Haven and Riverside, but also excelled at the independently-sanctioned "New London-Waterford" Speedbowl as captured here before a packed grandstand. He was a popular chauffer with both fans and the guys he raced-against. (Shany Photo). |
| | |
| --- | --- |
| Here's a nice 1979 shot of our late friend Fred "Fuzzy" Baer when he was wheeling the last of his self-built signature #121 creations. He wrapped-up his career a few-years later following a number of stellar runs as a member of the LaJeunesse Race Team. Synonymous with the Waterford Speedbowl, Fuzzy remained one of the most beloved figures of the shoreline oval many-years after his retirement from the sport. Known as a skilled & steady chauffer, he was another of those guys that you seldom saw in any trackside-trouble. Though Baer's long career yielded feature victories seemingly low in-number, at-least one of them was a major-event. On August 20, 1966, he topped a field of Waterford's best in snagging a 75-lap championship race. (Kennedy Photo). | |
| | |
| --- | --- |
| | The guy holding the cherished checkered flag in this shot is Dave Seymour. The locale is Connecticut's much-missed Danbury Racearena and it's the fall of 1969. Sanctioned by the Southern New York Racing Association, Danbury was one of the most-successful short track operations in the country right-up until it's untimely closure at the dawn of the 1980s to make-way for yet-another shopping mall (just what we needed, right?). As seen by the powerplant in Seymour's jaunty little coupe, the SNYRA mandated flathead engines much-longer than other racing groups. It worked for them; the car counts were always high and massive crowds were the norm at the Racearena, rather than the exception. (Mannion Photo). |
| | |
| --- | --- |
| Captured here at Massachusetts' late Riverside Park Speedway during the early-70s is Ed Flemke Jr. With a father like NEAR Hall of Famer the late, great "Steady Eddie", this youngster had some mighty-big shoes to fill, and thus-far, he's done a darned good job of carrying-on the family racing heritage. Much like his late father, Ed Jr. is viewed by many as a steady-shoe, utilizing experience to his advantage when required. Also not unlike his father, he's a master car-builder. (Grady Photo). | |
| | |
| --- | --- |
| | Speaking of "Steady Eddie" Flemke here's a nice one of him as captured in the lens of longtime auto racing photographer, our pal John Grady. Starting during the emerging popularity of stock cars in the post-war era, it's estimated that he won over 500 feature events during a career which spanned 3-decades. Along the way, he helped many young drivers get their starts, including Daytona 500 winner Pete Hamilton, and Indy 500 veteran Dennis Zimmerman (also HOF members). As an expert car builder, he designed the "Flemke Front End" a chassis component that remained the standard in Modified construction for years. Ed was among the first inducted into the New England Auto Racing Hall of Fame in 1998. (Grady Photo). |
| | |
| --- | --- |
| Here's a victory lane shot of late George Pendergast and the Congdon Racing Team following a victory at what was then-known as the "New London-Waterford" Speedbowl. The Congdon family of Salem located right-up the road from the Speedbowl, fielded cars at the shoreline oval for many seasons. Untold victories and a number of championships were the reward; their list of drivers over the years is a veritable "who's-who" of the track's best racers. This image comes from the Congdon family archives courtesy of Carolyn Grey, daughter of the man that started what would become a powerhouse team in the realm of local racing circles. Carolyn writes that "This one is special to me, as it pictures both my dad & brother, and also other members of the team." Many thanks for sharing, Carolyn! (Shany Photo courtesy Carolyn Grey). | |
| | |
| --- | --- |
| | Here's an image of a car that looks like it's from the Congdon Racing Team stables, but that's not the case. I've had this shot in my archives for eons, but unfortunately, could never quite identify the driver. Our friend Carolyn Grey, the daughter of Bill Congdon wrote to tell us that it def. was not one of her dad's cars. Many folks including our close pal veteran racer Mark LaJeunesse, and also reader "Tom H" reason that it may be Bob Savard behind the wheel. I'm thinking the same-thing the more I look at this shot…. (Shany Photo). |
| | |
| --- | --- |
| Captured here during the waning years of the "coupe era" at the Speedbowl doing some victory lane celebrating with his family is the late Charlie Webster. He was one of the guys that literally helped put the shoreline oval on the map. Amassing a career total of seventy-three feature victories in both Non-Ford and Modified competition, he was a champion in both classes (3 Non-Ford titles, and 1 Modified crown). Charlie shocked the local racing community with his decision to retire at the dawn of the 1970s while still very-much in his prime. (Shany Photo). | |
| | |
| --- | --- |
| | In the "RTT" archives we have a huge number of both hardcopy and negative images from the Speedbowl that unfortunately, we can't positively-identify, If we were to gamble, we'd say that this racer is known as Walt Johansson, as that name appears in several results records from the era in which this image was captured (and note the sponsor). Either-way, it's a great shot of a neat coupe. It's also kinda' unique in the fact that the car apparently came out of neighboring New London which even-though close to the Speedbowl, was never exactly a haven for race cars (though there were a few very-notable exceptions), If anyone can positively ID the driver, please feel-free to write! (Shany Photo). |
| | |
| --- | --- |
| BONUS SHOT: Since the unfortunate passing of New England Auto Racing Hall of Fame member Melvin "Red" Foote earlier this month, we've had several requests for more images of the pioneering New England racer. Here is what I personally consider to be the best shot of him that I have in my files. The location is Connecticut's "New London-Waterford" Speedbowl and the year is 1953, the track's third year of operation. That season driving this Paul Smith #J2, Red stormed to 16 feature wins, handily taking the track championship. Before leaving the area during his "Eastern Bandits" period, he would grab a second Speedbowl championship in 1958. (Shany Photo). | |
| | | |
| --- | --- | --- |
| | Remembering Hall of Fame Member Melvin "Red" Foote | |
| | | |
| | | |
That's it for this week. Email me at: foreveryounginct@gmail.com

COMMENTS

tim said:

who owned the # 65 car that charlie webster drove in that photo. BTW what year was that pic taken ?

Bob Paine said:

The 76 could be Bob Savard. That car might be the bomber version, owned by Ted or Ed Gladue. One owned, the other drove. Bob also drove the 761 bomber it I memory is OK after 50 years. Bill Congdon gave Ted the OK to model a bomber after the modified. For some reason the number was later changed to 176, the 1 which you can see to the left of the 76. This is just a possibility but seems to be the way it was.

Ed P said:

I know little about Jocko. I have seen pictures of him in a number 15 which I believe are from the late 40's, but all that is ever posted on line are pictures of the him in 19 and the Garuti 28. Does anyone know if he drove other cars ?

tom h said:

mystery driver in the 76 looks like Bob Savard


Mark L; said:

I'm the anonymous below

Anonymous said:

Hi Dave; The J4 is definitely Walt Johansen. I surely remember watching that car race several times in the early / mid 60's

Denny Z. said:

Very nice tribute to Red Foote.