COLUMNS & FEATURES
FROM
SpeedwayLineReport.com
Click On Link
FRIENDS

Semi-Monthly Racing Commentary with
LEW BOYD


JANUARY 31
JON'S JOY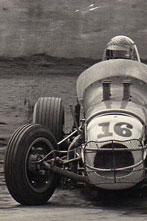 By Dave Dykes CLICK ON PHOTO FOR FULL SIZE
This week we feature images from a number of different New England speedplants. Special thanks go-out to those who contributed images to this installment of "RTT" and esp. to our old pal & Webmaster Tom Ormsby for making it possible for us to hit the Internet each & every Wednesday. In closing, condolences are offered to the family & friends of longtime Northeastern track owner & promoter C.J. Richards who passed-away last week. Also in our prayers is NEAR Hall of Famer Bentley Warren who suffered the loss of his son Jimmy late last-month. As-always, email reaches me at foreveryounginct@gmail.com Have a great week!
NOTE: We have now put a comment box at the end of the web site. Please feel free to leave your comments.
Mixing-It-Up A Bit Again….
| | |
| --- | --- |
| 1974 was a landmark year at Connecticut's Waterford Speedbowl for New England Auto Racing Hall of Fame member, the late Ollie Silva. On Sunday, May 5th of that season, he visited the shoreline oval to compete in the Independent Racing League's "Hott Wheels 100", an open-competition race paying a handsome purse. When the checkers fell that afternoon, he'd bested an all-star field finishing 2-laps ahead of his nearest competition. It's an event still talked-about by the folks that were present. This one captures him pitside at the Speedbowl later during the same season. (Photo courtesy "Mikepa" collection). | |
| | |
| --- | --- |
| | To a certain degree, the late George Pendergast gets short-changed when it comes to discussing the racing feats of his generation's drivers. he was in-fact, a noteworthy winner grabbing checkers all-over New England during the much-heralded "Coupe Era." Perhaps overshadowing his accomplishments was a fun-loving persona. Ever-the-Rogue (in a good-way), few escaped George's practical jokes and desire to make racing an absolutely-entertaining endeavor both on, & off the track. This shot captures George in the Teddy Doubleday #74, one of the many different rides he chauffeured in a successful career that lasted decades. (Photo courtesy "Mikepa" collection). |
| | |
| --- | --- |
| Here's a great image of the late, great "Steady Eddie" Flemke, from the Stafford Motor Speedway in Connecticut courtesy of our friend, JoJo Farone. From his New England Auto Racing Hall of Fame biography; "Steady Eddie" Flemke started his driving career in 1948 in the early jalopy races. In the 1950's he raced at all the United Stock Car tracks and won Riverside Park championships in 1956 and 58. In 1960 with the emergence of NASCAR in New England he became the leader of the famed Eastern Bandits as they raced and won up and down the East Coast. He was never considered a points chaser but he still finished runner-up in the NASCAR National Modified championship in both 1960 and 61. He was known as the best of the big dollar race winners. Among his estimated 500 victories is the 1973 Spring Sizzler, two Utica Rome 400's, and the 1977 Thompson 300. Flemke was also well known for his chassis innovations and his ability to make a car handle. He obviously developed the Flemke front end. Eddie was very willing to teach and encourage other drivers such as Denny Zimmerman, Reggie Ruggerio, Ron Bouchard and Richie Evans. Pete Hamilton honored Eddie Flemke by inviting him up to the press box after his Daytona 500 win and telling the crowd that he owed his victory to "Steady Eddie." After a thirty year driving career Eddie retired after driving his last race at Stafford in 1978. He was a founding member of NEAR in 1981. He died of natural causes in 1984. (JoJo Farone Collection). | |
| | |
| --- | --- |
| | Last week we ran a shot of the late Bobby Santos Sr. during his days as a Hobby Division competitor. Courtesy of our old pal John Grady, here's Bobby during his early career in the Modifieds. From his New England Auto Racing Hall of Fame biography; Bobby Santos began racing in 1952, driving a '47 Plymouth at the Norwood Arena. The venture was short-lived, and Bobby quit racing for several years. One night, however, Don MacTavish asked Bobby if he would take his wrecked racecar home and repair it. He did, with the help of friends George Colwell, and Ira Tucker. Santos took that car to Norwood, and won 3 Sportsman races and 23 Hobby Division races between 1961 and 1967. He mounted dirt tires and drove the same car at Stafford, taking down 3 championships there. In 1968, Bobby was so dominant in the Norwood Hobby Division that he was "invited" to leave. He, Colwell, and Tucker returned to Norwood, however, after building themselves a modified, which he quickly managed to park in victory lane. Over the next several years, Bobby drove for Ray Spognardi, Ray Stonkis, Bill Simon, and Joe Brady, competing at Westboro, Thompson, and Seekonk. He then went to work for fellow Hall of Famer Art Barry, driving the Preston, CT based #09 and then the #21. Santos and Barry competed at Stafford, Thompson, Claremont, and Monadnock. "Bobby was the "King" up in New Hampshire," remembers Barry. There was one year nobody could touch him up there. He won 7 consecutive races up there once." Bobby took the Barry cars outside New England, and was a threat to win every time out at Trenton, Pocono, Lancaster, Malta, and Utica Rome. "Win, lose, or draw," states Barry, "Bobby was a ton of fun. We won a lot of races. The thing about Bobby was that he drove his heart out, from the first lap to the last. He drove for me for 7 or 8 years, and we won a LOT of races." (John Grady Photo). |
| | |
| --- | --- |
| Captured here aboard his familiar coupe at Massachusetts' former Riverside Park Speedway, anyone that was around during what's widely considered the "Golden Era" of New England Modified racing is sure to recognize this guy. The late Booker T. Jones joined the New England Auto Racing Hall of Fame in 2003. Upon his induction, award-winning racing journalist Bones Bourcier commented that "He drove NASCAR Modifieds around the Northeast for what seemed like a hundred years, and yet when he passed at the age of 74, it was not his racing you remembered. It was his friendly smile, his big right hand shaking yours. He was everybody's buddy." The consummate low-buck operator, Jones made-due with equipment that was often less than that of his competitors. He remained a popular figure at New England raceways long after his days behind the wheel were over. (John Grady Photo). | |
| | |
| --- | --- |
| | Captured here pitside at the Waterford Speedbowl in early 1974 is journeyman "Coupe-Era" racer Bill Harris. Previously a regular at Plainville Stadium where he'd began his career, Harris always fielded nice-looking equipment and this #17 was no He was gone from the scene by the dawn of the 1980's, but not before recording several respectable finishes. Look-closely in the background of this shot, and you'll see our late friend, NEAR Hall of Famer Dick Watson standing with his crew & enjoying a sip of coffee…. (Rene Dugas Photo). |
| | |
| --- | --- |
| We admittedly don't know much about Plainville chauffer Bill Brown, but we sure do like the looks of his sanitary little coach-bodied creation. A typical late-60s, early-1970s creation, his ride is a good representation of the machines that called "Tinty's Place" home every Saturday night. Coaches seemed to remain in-style at Plainville longer than at most New England raceways (note that the car to the inside of Bill is also of the same lineage). (Steve Kennedy Photo). | |
| | |
| --- | --- |
| | Yet-another "Stage Coach." He was a farm-kid raised in the once-rural Cohanzie district of Waterford, Connecticut, a mere stones-throw away from the RT. 85 oval then-known as the "New London-Waterford" Speedbowl. Like so-many other local youngsters, at an early age he was drawn to the sights & sounds of the 1/3-miler, which once shared billing with the old Waterford Drive-In Theater as the town's top entertainment venues. By the 1960s, the late Terry Peabody had graduated from spectator-to-racer, landing in rides like this Freddie Beaber-owned coach. Sadly, his life ended unexpectedly and much-too early, but not before he'd become a respected and popular competitor at the shoreline oval. At the conclusion of his driving career in the 1970s, he stayed involved in the sport as the proprietor of "Peabody Performance" supplying power to many local race teams. (Rene Dugas Photo). |
| | |
| --- | --- |
| One of the real pioneers of the New England Modified scene, Buddy Krebs was simply among the greatest racers to ever strap-in behind the wheel, especially at Massachusetts' late Riverside Park Speedway as captured here. Inducted into the New England Auto Racing Hall of Fame in 2000, Krebs started racing in 1947, and before it was over, won an estimated two-hundred features while competing in Modifieds, Sportsman, and Grand Nationals. Among his accomplishments were six Riverside 500 victories – a record never broken. Known primarily for his feats during the Tattersall/United era, he won at virtually all the tracks that once dotted the New England landscape including the late Plainville and Candlelight Stadiums in Connecticut, and Millers Falls and Westboro Speedways in Massachusetts. A founding member of the New England Antique Racers, Buddy passed-away in January of 2006 at 74. (John Grady Photo). | |
| | |
| --- | --- |
| | As a youngster, our friend Steve Kennedy began shooting images of his Plainville Stadium heroes by sticking the lens of his camera through open spaces in the fence; this is one of those photos. Steve of-course later became one of the best racing photographers in New England recording the sport at a number of the regions top venues. One of the real heavy-hitters in the Connecticut Modified wars of seasons-past, John Anderson got his start wheeling rides like this at Plainville. Typical of the time (1971), his car featured a pre-war body and a stock production frame. It was an era in the sport when guys still built & designed their own rides in home garages and sometimes in backyards under the stars. Big-changes were on the horizon, and within a few seasons a car like became all-but obsolete. Enter the "professional" chassis builders, and the sport changed forever. (Steve Kennedy Photo). |