COLUMNS & FEATURES
FROM
SpeedwayLineReport.com
Click On Link
FRIENDS

Semi-Monthly Racing Commentary with
LEW BOYD


MARCH 18
THE KID WHO
SAYS THANKS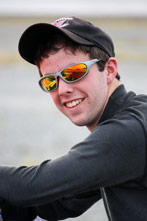 By Dave Dykes CLICK ON PHOTO FOR FULL SIZE
This week we present a little something different courtesy of our friend & Webmaster Tom Ormsby. A while-back, Tom received a batch of vintage Gordon Reining shots from John Bisci, and thanks to him we're able to present some of those images in this installment of "RTT." On a more-serious note, we just received word that our friend New England Auto Racing Hall of Fame member George Summers has been hospitalized with a bout of pneumonia. Get-Well wishes reach him at George Summers, PO Box 8001, Upton, Ma. 01568. As-always, email reaches me at foreveryounginct@gmail.com
NOTE: We have now put a comment box at the end of the web site. Please feel free to leave your comments.
In A New York State Of Mind….
| | |
| --- | --- |
| Here's a great shot from New York's Lancaster Speedway. The year is 1969 and the driver is Ted Renshaw. Scoring multiple successes on the ovals of the New York State region as-well as Canada (most-notably Cayuga Speedway), Renshaw was always-known for campaigning ultra-sanitary creations like this Coach-bodied entry. (Gordon Reinig Photo Courtesy John Bisci). | |
| | |
| --- | --- |
| | Seen here at Lancaster Speedway in 1969 is eastern hotshot Cam Gagliardi. Long a presence in the Modified wars of his region, he was a big winner at places like Lancaster, Albany-Saratoga, and Merritville in naming just a few. Cam actually got his start in the sport at the old Buffalo Civic Stadium in Buffalo, New York which operated from 1933 to 1959. Many of the area's greatest drivers emerged from the Civic Stadium including Gagliardi, Billy Rafter, Chuck Boos, and Bill Torrisi – all were champions. (Gordon Reinig Photo Courtesy John Bisci). |
| | |
| --- | --- |
| Another shot of a driver noted for his accomplishments in the Empire State region, this-time from the 1971 Lancaster campaign. Seen here is Don Diffendorf. Well-traveled, "Diff" also excelled on dirt and the big Modified shows of the era such as those events held at Langhorne & Trenton. As an aside, it was a shot of this positively wild-looking and well-known #S/360 Coach that graced the promotional poster for the first-ever Spring Sizzler at Stafford ran on April 16, 1972. (Gordon Reinig Photo Courtesy John Bisci). | |
| | |
| --- | --- |
| | Simply a great shot….Seen here in the pit area of Lancaster Speedway in 1969 with a neat pair of coaches are the Treichlers, Gordy with his #47, and that's Roger flanking the #74. The Treichler family has deep roots in the history of Lancaster, with the family (including Merv), having claimed a total of 9 track championships. (Gordon Reinig Photo Courtesy John Bisci). |
| | |
| --- | --- |
| Seen here at Lancaster following a victory in 1969, the late Richie Evans left his family's farm at age 16 to work at a local garage. After finding early success in drag racing, a friend suggested he try building a car to race at the nearby Utica-Rome Speedway. He ran his first oval-track car, a 1954 Ford Hobby Stock numbered PT-109 (after John F. Kennedy's torpedo boat in World War II), in 1962. He advanced to the Modifieds in 1965, winning his first feature in the season's final night. In 1973, Evans became the NASCAR National Modified Champion. In 1978 he won a second title and did not relinquish his crown during the next seven years. Evans took over four hundred feature race wins at racetracks from Quebec to Florida before he was fatally injured at age-44 in a practice crash at Martinsville in late 1985. Before his death, he'd already clinched the inaugural Winston Modified Tour championship (now known as Whelen Modified Tour). In 1979-alone, he started 60 NASCAR Modified races and posted 54 top-five finishes -- including 37 victories. Richie was among the first inductees into the New England Auto Racing Hall of Fame in 1998, and became a member of the NASCAR Hall of Fame just this year. Evans was, and will forever be-known, as "The King of the Modifieds". (Gordon Reinig Photo Courtesy John Bisci). | |
| | |
| --- | --- |
| | We admittedly don't know much about this Lancaster driver, Tom Leeson, but we just had to run the photo as his car is such a great example of the period in-which late model bodies began replacing the time-honored coupes & coaches. In a lot of ways, the tracks of the New York region were at the forefront in introducing more-contemporary sheet metal to our segment of the sport. This is a pretty car, isn't it? (Gordon Reinig Photo Courtesy John Bisci). |
| | |
| --- | --- |
| Captured here during one of his coupe-era dirt racing outings is Syracuse, N.Y. native Jim Shampine, simply one of the best-ever Super Modified racers in the history of our sport. It was the half-mile Oswego Speedway in upstate New York that made him a star. He captured a record eighty-seven Super features along with five Modified shows in a career at the "Steel Palace" that saw him annex the championship seven-times. Tragically, Jim also lost his life at Oswego, perishing in a Modified crash on Labor Day weekend in 1982. (Gordon Reinig Photo Courtesy John Bisci). | |
| | |
| --- | --- |
| | From Lancaster in 1968; New York State produced some of the best Modified shoes to ever turn a wheel, and Maynard Troyer was one of them. Along with multi-time NASCAR Champions Richie Evans and Jerry Cook, Troyer was part of the "Big Three" of the region during his era as a driver. Widely regarded as a master craftsman in the art of race car construction, his rides were always immaculately-prepared (check-out this pristine Falcon), during a time in the sport when most teams subscribed to the old adage that "Pretty Don't Go." Though he's long-retired from active-competition, his Troyer Race Car Shop (founded in 1977), continues to provide state-of-the-art machinery for today's Modified racers. (Gordon Reinig Photo Courtesy John Bisci). |
| | |
| --- | --- |
| Captured pit-side at Lancaster in 1969 (where he was a 4-time track champion), is arguably one of the greatest combined asphalt/dirt racers ever. Sanborn, New York's Merv Treichler notched titles at a myriad of Empire State haunts during a career that began with Coupes like the one he's pictured-in here. Also included on his resume are wins at the Race of Champions, Daytona, and 2 victories at Super DIRT Week in Syracuse. An inductee of both the FOAR Score & DIRT Hall of Fames, he also competed in what's now known as the NASCAR Nationwide Series, scoring several top finishes from 1984-87. (Gordon Reinig Photo Courtesy John Bisci). | |
| | |
| --- | --- |
| | Captured at Lancaster Speedway following a 60s-era victory is Billy Rafter, a racer who was as skilled on asphalt as he was on dirt. He started his career racing during the late 1940's on the short-lived NASCAR Midget circuit (yes, NASCAR did in-fact sanction the open-wheelers for a time in their heyday during the post-war years). Switching to stock cars shortly thereafter, he became almost an immediate success amassing a long-list of accomplishments, among them a New York State NASCAR Modified championship, four victories at Langhorne, and a host of track titles in the Jersey/New York area. Bill was inducted in to the DIRT Hall of Fame in 1992. (Gordon Reinig Photo Courtesy John Bisci). |
| | |
| --- | --- |
| BONUS SHOT: As mentioned earlier, the threat of fire was of huge concern during the early days of the sport; it's truly a miracle that more drivers were not injured or even-worse during the sport's infancy. In this shot of the late Johnny Cambino captured at Connecticut's former West Haven Speedway in a car owned by Billy Greco's brother George, you can clearly see at the rear of the car the beer keg utilized as a fuel tank. This less-than-ideal setup often resulted in some explosive and flaming adventures for stock car racings pioneers. Cambino by the way, was one of the absolute-best of his generation, especially at West Haven. (Shany Photo, Ormsby Collection). | |
That's it for this week. Email me at: foreveryounginct@gmail.com

This Weeks Comments

(1 minutes ago) steve kennedy said:

fabulous selection Dave!
(2 days ago) Mike Ray said:

Thanks David,John and Tom!

(5 days ago) Dave Blake said:

Don Diffendorfs S/360 was succesful on both dirt and asphalt. he won a big race at Syracuse with this car, then went to a paved track and raced

(6 days ago) mike said:

i remember the S/360 for the DIF., what a cool paint job for the time.

(6 days ago) JACKB The picture of the beer ke said:

(6 days ago) Cliff Mathewson said:

Great looking photos of N.Y. State Modifieds.I shows that all of the best drivers didn't all come from the six New England states!!